BOLEO IN THE NEWS

---
BOLEO® DOES IT WITH STYLE
Walkin' The Dog featured in MARTHA STEWART LIVING
JULY 1. 2011
Our Walkin' the Dog case is featured in the July 2011 issue of Martha Stewart Living! Marketed by Trixie and Peanut under the Dog Walker Pro Pack name, our case adds both function and a touch of class to your dog walking duties.

Responsible dog ownership never looked so good!

---
BOLEO® GOES TO THE MOVIES
On the set of Coming and Going
JULY 2010
Edoardo Ponti's new romantic comedy, Coming and Going is set to be released in 2011. BOLEO was on the set as "Crafty" Barb Fleeman introduced Hold Your Water clips to the cast and crew along with her delicious catering.

Summers in California are sunny and warm and staying "well-watered" is crucial to the health and well-being of everyone involved in the long, intense days of movie making. Our Hold Your Water clips insured that the entire entourage was able to "hang on to" their water throughout the filming.
---
BOLEO featured in Chicago Sun-Times
MARCH 2011
BOLEO's Good To Go travel set was one of the featured items in the Sun-Times' review of the best new items at the 2011 Travel Goods Show. As you can see, the paper even used the name of our product as the headline for the article!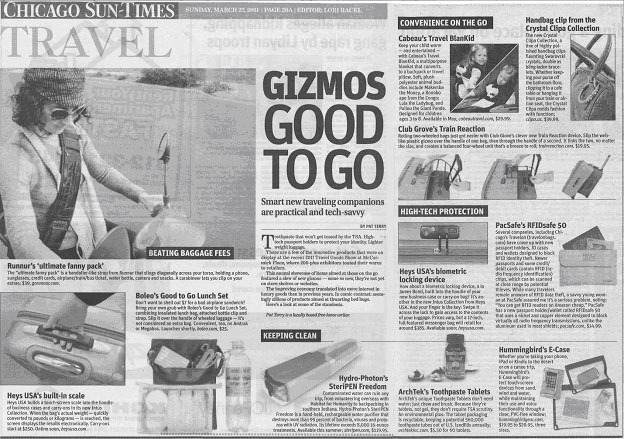 ---
BOLEO® SUPPORTS DISASTER ANIMAL RESCUE EFFORTS
Hold Your Water® Clips Help Team Stay Hydrated
JULY 13, 2010
When catastrophe strikes – whether man-made or an act of nature, humans are not the only victims. Disaster Animal Rescue Team (DART) volunteers are specially trained to save wildlife and domestic animals following floods, oil spills, hurricanes and other disasters.

The BP oil spill in the Gulf of Mexico is no exception, and BOLEO® is proud to support current rescue efforts.

Approximately 100 volunteers from the Pinellas County Disaster Animal Rescue Team were deployed last week to assist in the Gulf rescue efforts. Before leaving, Team member Karen Reed contacted BOLEO, stating: "I had purchased a Hold your Water® while vacationing in Maine. In 2008 after Hurricane Ike I was deployed to Texas to help in the sheltering efforts after the storm. We worked outdoors in extremely hot temperatures. And I was able to stay hydrated due to having a bottle of water clipped to me at all times. Others asked me where they could get one too."

The entire Pinellas team is now outfitted with BOLEO® Hold Your Water® clips. We are grateful for the vital work the team does to help save our precious wildlife and thrilled to make even a small difference for these very special volunteers.
---
BOLEO® GETS DOWN WITH VH1
AT ITS 5TH ANNUAL "VH1 HIP HOP HONORS" EVENT

Hold Your Water® Clips Boosts VH1 Production Team's "Green" Efforts
September 29, 2008
The behind-the-scenes action required to set up televised awards ceremonies is intense. The sparkling sets we see on TV are the result of much hot, sweaty work and the people who do that work need plenty of hydration. In the past, this has resulted in hundreds of abandoned half-finished bottles of water, as workers dash from one task to another.

Now BOLEO® has helped the crew producing the 5th annual "VH1 Hip Hop Honors" to "go green" by providing Hold Your Water® clips for their bottles. The clips snap onto the neck of any standard water bottle then clip to belt loops, backpack straps, etc. Fewer bottles are left behind half-finished, and more can be re-filled over and over again. The clips provide an easy way to help conserve water and reduce waste.
---
ROCK HONORS GO GREEN WITH BOLEO®

July 2. 2008
Margaret K. Lydecker, VH1 Sustainability Advisor, knows that even small changes can make a big difference in reducing waste and promoting re-use and recycling.
Setting up an extravaganza like the July 17th VH1 Rock Honors awards requires weeks of hot, sweaty work, and the people who do that work need plenty of hydration. In the past, this has resulted in hundreds of abandoned half-finished bottles of water, as workers dash from one task to another.
"We are setting up water stations, Lydecker explained, but our crew members need the portability of taking a bottle with them as they work." Lydecker teamed up with sponsor Glaceau® Smart Water® to provide the liquid refreshment, and BOLEO® provided the crew with Hold Your Water® bottle clips. The clips snap onto the neck of any standard water bottle or soft drink, and then clip to belt loops, back pack straps, etc. "Because they can hang onto their bottles, Lydecker said, they can refill at the water stations and reuse the bottles multiple times."